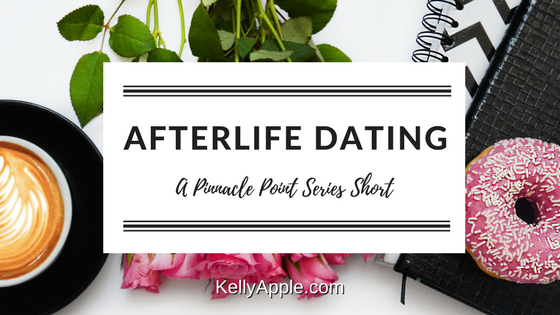 Afterlife Dating
Chance and Alison
Pinnacle Point
When you were a ghost, taking your girlfriend out to a fancy restaurant required a certain amount of concentration. Chance didn't know if he had it in him to remain visible the entire time, but he was damn well going to try.
Hell, when said girlfriend showed up looking like a million bucks in a black bustier and a tight pencil skirt, her pink hair in wild disarray, Chance was willing to try anything.
"You look fantastic, Mr. Harker."
Chance grinned at Alison's breathy tone. He wondered if she was wearing panties. Probably not. His vixen liked to tease him by "accidentally" forgetting little things like that and casually dropping it into conversation at the best possible moments.
Smoothing a hand down his tie to make sure it was lay flat, Chance took Alison's hand and pressed a kiss to her knuckles. She looked beautiful. She smelled like a dream. He would be lucky to make it through the entire meal without dragging her into the bathroom for a quickie.
No. He'd find a way to control himself tonight. His lady deserved a nice night out and he was determined to deliver.
They could have wall-banging sex at her place after.
"And you, Ms. Daniels, look utterly fuckable." Chance loved the way her cheeks turned rosy at his gruff words. "Let's have dinner so we can get to the naughty part of the evening."
With Alison on his arm, Chance felt like the luckiest ghost on the planet. She looked like a gorgeous, sugary confection and he knew the other men in the restaurant were dreaming of taking a bite out of her as they were led to their table.
He thought she hadn't caught on to the stares until she slipped him a wink as she primly sat in her seat. God, this night was going to be long. Long and hard.
So hard.
Chance sat across from her and watched her look over the menu. As a ghost, he didn't need to eat so he ignored the one the server had placed by his elbow. Watching Alison work her way through a meal would be enough of a feast for him. Gazing on her beautiful features as she slid the tines of her fork from between her lips was better than anything he'd ever eaten anyway.
"You're going to make me self-conscious, Mr. Harker."
Chance grinned slyly and made a show of pretending to look at his menu.
Alison squirmed in her seat and held her menu up higher so no one could hear her next words. "You don't need to feed me to get laid, Chance. I'm sure you've guessed that by now."
Oh, he knew. But he liked Alison and giving her things she enjoyed was no hardship.
Smiling blandly, he locked eyes with his girlfriend. "We can leave if you want to, but I'm not looking to just get laid, babe. You mentioned you wanted to try this place a couple months ago and I thought it would be a nice change of pace from pizza in your living room."
God, her smile did things to him. Especially when it had that edge of naughtiness to it.
"Okay." She leaned back in her chair, her expensive shoes tapping against the floor. "You're right. I have wanted to try this place." She paused to give the server her order, her eyes glittering in the low light.
Once they were alone again, Alison looked at him sitting such a proper distance away and Chance nearly squirmed in his seat. That look was the one that had sealed the deal for him. The wicked, considering gaze that made him feel like her hot hands were running down his chest.
"If you're taking suggestions, I wouldn't mind if you stopped by work on Monday and made me sit still at my desk while you did deliciously naughty things to my nether regions."
Her words almost made him groan. They'd almost been caught by her supervisor the last time he'd ghosted in to give her some oral loving during work hours. They'd mutually decided to be a little more discreet after that.
Apparently, the moratorium was up.
"I can stop by your work," Chance said, his voice dropping into a deeper register.
Alison smiled. "Good. I'll make sure we have extra donuts for the break room."
Feeling his ghostly body flicker at the memory her provocative words called up, Chance set his jaw and leaned in as close as the fancy table allowed. "Make sure they're powdered."
God, he loved when her cheeks turned as pink as her hair.
Monday really couldn't get here soon enough.
Grabbing onto his restraint, Chance settled back in his chair and got ready for the best night of his life.
All this foreplay pretty much guaranteed it.
The End
---
Want to see how Chance and Alison first hook up? Grab Ghost of a Chance to read their story or pick up Pinnacle Point: The Harker Collection to meet all of the Harker clan.
Missed any of the other shorts? Check out the Series Shorts page and get caught up.