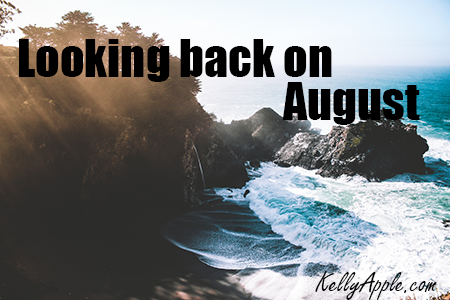 I KNOW I say this pretty much every month, but WHERE THE HECK DID AUGUST GO? I feel like I just did a looking back post for July and here we are again!
*laughs nervously and wonders when time started speeding up*
Anyway. Now that I'm over my shock, let's take a look at what happened during the month.
On the personal side of things, I moved my son into his dorm last month and now he's a couple weeks into his freshman year at college. TALK ABOUT TIME MOVING FAST! The kid was just a sprout and now he's a full-blown human type thing. WEIRD! On the downside, his departure sort of derailed my writing for the month. Ultimately this isn't an issue since I'm WAAAAAY ahead on books written, but it does make me a little blue that I haven't been writing as much as I like to.
On the other hand, the final book in the Wicked Pride series is now out in the wild. Laid Bear is Ivan and Callie's story and I ABSOLUTELY ADORE THEM. I feel like I say that about so many of my characters (which is I good thing, I think, because I like liking my crazy heroes and heroines), but I got such a kick out of writing their romance. He's a typical growly bear and she's a very tongue-ties hybrid. Until she's not.
I'm taking part in a huge multi-author freebie event in September (more about that next week, though) and I put Wisp up as one of my freebies. So, you know, if you've been wanting to try Will and Kaitlin, now's a fantastic time. Or you can wait until next week and grab it with a bunch of others. YOUR CHOICE!
There you have it. Not a lot done writing-wise for August, but things are STILL HAPPENING!
Here's to a productive September!