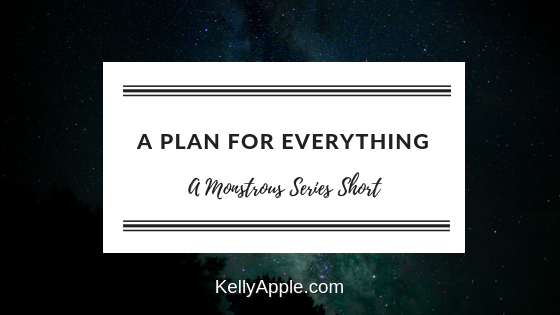 A Plan for Everything
Ella
Monstrous
Because of her harpy heritage—wings aren't easy to hide, you know—Ella had never been to a bar. Not the type Ari and Siri were so excited about, at least.
But their excitement was infectious and the idea of just hanging out while sipping an alcoholic beverage or two and possibly dragging Michael onto the dance floor to rub against him while dancing sounded like an insane amount of fun.
Before that could happen, however, they needed to get everything set up.
Liam and Jerinth had delivered the actual bar a few days ago. Then they'd smoothed out a portion of the ground outside to use as an extra gathering place. They'd brought in tables and chairs and all sorts of things Ella never would have thought of.
Most of it handmade.
Honestly, it was coming together beautifully.
She'd been tasked with finding enough alcohol to give the supernaturals who'd be attending at least a bit of a buzz.
That was…a little problematic.
Mostly because supernatural metabolisms were stupid fast and finding something strong enough in large enough quantities to let monsters get their drunk on wasn't as easy as it sounded.
It turned out supernaturally brewed moonshine was pretty much the only thing that did it.
On the plus side, Michael and his college pack mates had a few contacts who she was negotiating with. The down side? They didn't mind supplying the hooch, but they wanted an invite to the party in return.
All of them.
Twelve supernaturals of varying species all wanted to a free pass up to the house to the rocking bar party Ari had decided to put together.
Ari was going to agree to it, Ella knew. Ari wanted everything to be perfect and perfect meant having a fully stocked bar.
So they were adding another dozen people to their guest list.
Liz had given her a wide-eyed look when she'd told her and muttered darkly about making more food before hunching over a legal pad and adding to the ingredient list she'd been working on.
So, okay. Maybe things weren't quite as doom and gloom as Ella kept thinking.
Dividing up the tasks made things easier. They just had to make sure they all communicated—clearly—so that nothing fell through the cracks.
Ella had the alcohol covered. Liz had the food. Siri had been called back home to deal with some family issues, so she was currently out of the task rotation. The cockatrice had sworn up and down that she'd be back in time to help out, but everyone knew how family could be.
Siri would definitely make it to the party, but she might not be able to get away before then.
The guys had all thrown themselves into helping get the house set up. All of them.
Even Max had been out there, using his impressive brain to help the others plan out how to use every square inch of space they're allocated for Ari's project.
This, Ella realized, was going to be fun. In typical Ari fashion, the nymph had thrown herself so whole-heartedly into her idea that there was no way it couldn't be fun.
Friends, a few strangers, some booze, music, and dancing.
What could possibly go wrong?
The End
---
Want to see Ella's first appearance? Monstrous Matchmaker: The Complete Series introduced her. (Or grab Operation Werewolf if you prefer to read it as a serial.)
Missed any of the other shorts? Check out the Series Shorts page and get caught up.