Today's the release day for No Reservations, the first book in the Wicked Pride series. *throws confetti*
*throws confetti again*
*eats all the cake*
BOOK BIRTHDAYS ARE SO FUN, AREN'T THEY?!?!
Want some tidbits about this book (and series)? EXCELLENT. Because I'm going to tell you anyway.
No Reservations was originally written around a writing prompt for an anthology that ultimately fell through.
While I knew I was going to write at least one other book in the series as soon as I'd finished book 1, I honestly (HONESTLY) thought it would be a two book series. MAX.
This series is not two books long.
Both No Reservations and Dangerous Curves were written at the end of 2015. White Collared and Laid Bear were written at the beginning of 2017. (Yeah, when I went back to reread the first two to ready them for the editor, my muse slapped me upside the head and informed me that this series wasn't done. So I wrote more.)
The fact that these cats consider themselves part of a pride when they're not all lions is addressed in book 3. (Hint: the first pride leader was a lion and he wanted them to be a pride. What the king wants, the king gets.)
I have a series of day in the life short stories written for each of the couples. I'm trying to decide whether they'll be newsletter exclusives or just freebies I throw out into the world.
There you have it! While this series was supposed to be a quickie with only two books, you're getting FOUR for your reading pleasure. PLUS, they're going to be released fairly quickly so you'll be able to see how things play out for the various pride members. WHOO-HOO!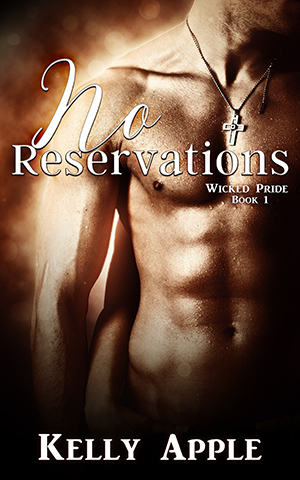 No Reservations
Amazon
|
Barnes and Noble
|
iTunes
|
24 Symbols
|
Kobo
|
Inktera
Release Date: May 24, 2017
Pages: 118
Genre: Paranormal Romance
Cami Patterson has the worst luck with men. Everyone in her pride knows it and they steer clear of her so they don't end up with a broken bone or two or, even worse, dead. Needless to say, when her best friend sets her up on a blind date with a werewolf visiting from out of town, she doesn't expect anything to come of it.

She certainly doesn't expect a night of non-stop excitement including thwarting a robbery, getting chased by the police, and almost causing an international incident. Who has time to enjoy themselves with all that going on? Or of hooking up with her sex-on-a-stick date?

Cami just might have met her match in the wolf who laughs in the face of danger and doesn't hesitate to jump in when there's a damsel in distress. Who knew it would take a wolf to brave this cat's run of bad relationships?