Howdy, everyone! With Thanksgiving in the US coming up this week, I thought it would be fun to revisit some of the characters from old series to see what they're thankful for. First up: Jenny Reynolds, everybody's favorite accidental murderer from the Anderson High Wolves series.
Enjoy this Slice of Life: Thanksgiving Edition
---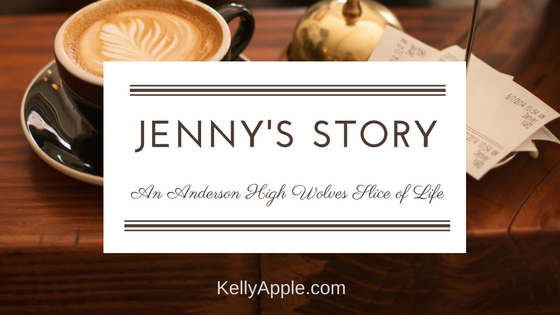 Evan's mom thinks I should make a list of all the things I'm thankful for.
Jenny stared at the line she'd just written and grimaced. Geez. This wasn't a five paragraph essay. No one was going to read the stupid thing but her. For an introduction, that was awkward and clunky and downright embarrassing.
Crumpling up the paper, Jenny tossed it in the trash and sat staring at the blank sheet in front of her.
Evan's mom had told her she needed to focus on the good and that making a list of everything she was thankful for might help her find her balance when the world got too loud around her.
Okay. A list. She could do a list.
Things I'm Thankful For, she wrote carefully.
She had no intention of listing things in any particular order, but the first entry should be special to her, she decided. Which meant either Evan or Taylor. Both of them held equal sway over her heart. Evan touched the romantic in her, whereas Taylor was her baby brother.
She'd killed to keep Taylor safe. Evan had stepped in and lent her his strength when she didn't think she could take anymore.
They were both special to her, both beloved.
Screw this. She would bullet point the darn thing and not agonize over whether she put her boyfriend or her little brother first.
Underlining the title, she narrowed her eyes in concentration. The first two points were easy. The third slipped from her pen and made her laugh. The rest followed with surprising ease.
Once she'd finished, she sat back and took a deep breath. There. Done. And she did feel a measure of peace as she looked over all the good things in her life.
Evan's mom had been right. Focusing on things she was thankful for took the sting out of the bad.
Smiling, Jenny left the paper on Evan's desk and went downstairs to find her gorgeous man.
Things I'm Thankful For by Jenny Reynolds
Family (that means you, Evan. You're mine now. You, me, and Tay are like the Three Musketeers. Nothing can separate us.)
Friends (Matty, if you're reading this, I swear I tried to talk Lane out of baking that pie. If you read this after you've tried some, there are antacids in the medicine cabinet.)
(Mason, you might want to check Natalie's phone for shirtless pictures of you. I'm not saying she's showing them around or anything, but she's awfully proud of the size of your biceps.)
Coffee
Having people to lean on
Not being afraid of the dark anymore
Evan's kisses (Shut up, Matty. You and Lane kiss as much as Evan and I do.)
That bag of Dove Dark I've been hiding from Evan for the past week (Sorry, honey, but I wanted it to last longer than a night.)
Feeling safe
---
There you have it, the things Jenny is thankful for!
As for me, thank YOU for reading my books!
Missed any of the other shorts? Check out the Series Shorts page and get caught up.