Okay. Story time. I've had this idea for the final part of the Monstrous series where the monsters are revealed and THINGS HAPPEN for a while. But I wasn't quite ready to start writing it at the end of 2016. I had just finished the Monstrous Matchmaker series and I wasn't ready to dive into a set of new adventures that would effectively close out the storyline I started waaaaay back with The Wicked Woods.
Soooo…I was messing around online with my BFF one day and I said I was going to write a book about a Wisp named Will and the book was going to be called Wisp. Oh, and the second book in the series was going to be called Deep and it would star a Kraken. And the third book would be about a Nightmare that had some performance issues. And somehow all these books would tie into the Monstrous world without being part of the Monstrous Tales/Matchmaker storyline.
So back at the end of October/beginning of November, I wrote Wisp, Deep, Dream, and Echo and I'm GIDDY over having an entire series finished before the first book has even come out.
That said… Wisp and Deep are both up for preorder. Wisp will be hitting the virtual shelves next week on the 25th and Deep will be heading your way toward the end of February. Dream and Echo will be the March and April releases for this year. They're at the low, low price of ninety-nine pennies through release week, so you should totally grab them now.
Totally.
Come on over and meet Will Quinn, the surly Wisp who likes going it alone. Until he doesn't.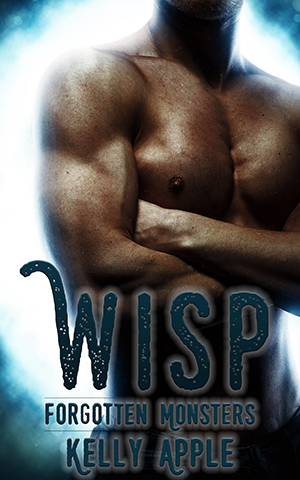 Wisp
Amazon
|
Barnes and Noble
|
iTunes
|
24 Symbols
|
Kobo
|
Inktera
Release Date: January 25, 2017
Pages: 40
Genre: Monster Erotica
Living on the outskirts of society suits Will Quinn just fine. He's one of the last of his kind and he's grown weary of being the boogie man to the humans who dare each other to check out his presumably haunted cabin.

When a small group of humans from the local college show up to interrupt his solitude, Will is determined to run them off. He never expects a pretty coed to see right through his glamour to the heart of the man beneath.

With tensions rising in the monstrous community and the danger of being revealed an ever-present threat, Will must make a choice: Guard the secret of what he is or let the spark that is smoldering between him and Kaitlin become a full-fledged burn.

Warning: This book contains a man who's much more than a Wisp. Not all monsters are created equal and Kaitlin's about to get the type of education she never dreamed of.