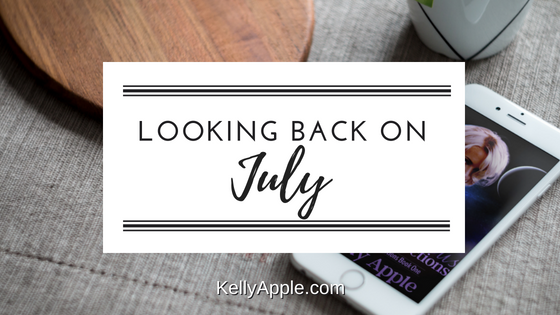 July has come and gone, my friends, and…I got a few things done.
You know, like releasing the first book in the Monstrous Revelations series. No big.
But seriously. NEW RELEASE! And I have book 2 ready to send to edits as soon as I finish this EVERLASTINGLY LONG WEEK. (So long. So very long.)
On the writing front, July wasn't as spectacular as I was hoping it would be. My plan had been to finish the Monstrous Revelations series so I could focus on my NEXT project in August. Unfortunately, sometimes life throws curveballs. In my case, it was taking on a big project at my day job (which doesn't involve monsters sexing people up, if you can believe that!) which cut into my productivity time. I'm an early morning writer usually, and adapting to being out of the house before 6am has been a challenge. (Coincidentally, that's why my looking back post is coming on the 3rd instead of the 1st.)
But that's neither here nor there. Monstrous Revelations will get finished this month and my next project will start once it's done.
As for the future, I have an 8 part serialized…something (not really a novel, not set in any already established series, not connected to anything I've already written) that I'm will be going out to newsletter subscribers starting in August. Possibly next week, more probably the week after. Once it starts, it'll hit inboxes once a week (I'm thinking on Thursdays, but we'll see!) and you can see how the weird story of a lone human on a spaceship full of aliens unfolds.
Ha! Just thinking about it makes me laugh!
The point is, if you haven't signed up for my newsletter yet, get thee hence and do so. Because these shorts are hilarious and I'm kinda in love with them!
I also have a THING I want to do to feature my older books and I'm excited about it. BUT…I need the time to get it created and, well, time is what I'm lacking at the moment.
ANYWHO. Ari, monsters, writing, and other crazy shenanigans. July was a pretty fun month overall. (Exhausting, but fun!)
Until next month!