QUESTION: Is anybody interested in a new series by yours truly? JUST CURIOUS! And by "just curious," I mean there's going to be a new one coming your way in December. Because, you know, I only have two current series I'm working on and THAT'S NOT NEARLY ENOUGH!
So. Grimwood. I revealed the cover for book 1 some time in the murky past (I'd go look at exactly when, but I'm pleasantly full of cake and that seems like a lot of work.) and now I think I should spill some details. *throws confetti details all around*
I've been calling this series my "dark fairy tale retelling" series. And it is. There's bloodshed and dismemberment (kinda) and wicked curses that get thrown around all willy-nilly. I also gender flipped the heroes and heroines from the classic tales. That's right, the big, bad wolf is going to be a lady wolf. The Beast is going to be a chick. The girl in the tower is going to be a dude.
Book 1 takes on the story of Rapunzel. My poor, sweet Zel who's held captive by an evil witch and made to do bad, bad things. *sniffle*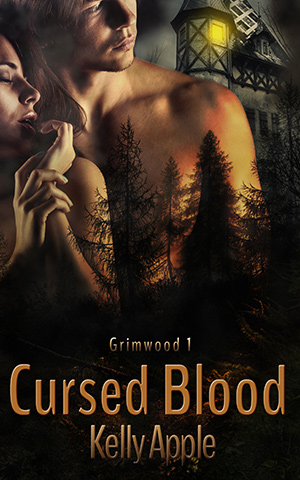 Cursed Blood
Amazon
|
Barnes and Noble
|
iTunes
|
24 Symbols
|
Kobo
|
Inktera
Release Date: December 13, 2014
Pages: 117
Genre: Paranormal Romance, Twisted Fairytale
Zel has lived his entire life within the confines of a square mile of the forest. The tower is his refuge. The witch, his captor. Forced to do her bidding, he dreams of a day when he can leave the cursed place and be free.

But fate has other plans and freedom can take many guises.

As a girl, Geneva devoured stories about the wild boy who lived at the highest point in the forest. A changeling, a prince, a forest spirit—all the tales tell a different story. Imagine her surprise when she stumbles across the cursed tower and the young man held prisoner there.

It'll take all her cunning and courage to free him.

What she doesn't know is that freeing him might doom them all.
I'll be fleshing out the Grimwood series page over the next few days while I work on edits for this bad boy. (I'm also working on the 1st draft of Refuge, book 3 in the Stronghold series. I be busy, man. BUSY!)