I am ABSOLUTELY GIDDY to be able to announce that Cursed Lives, the fifth Grimwood book, is NOW LIVE. Not everywhere, unfortunately, because apparently Super Bowl weekend isn't the best time to release a book, but HEY. I HAVE A NEW BOOK OUT. (and I'll update the book page with purchase links as soon as I get them!)
Seriously, my excitement is through the roof. Fen is my grouchy, grumbly boo and Gretchen is his sunny opposite. THEY'RE SO CUTE TOGETHER!
SO. FREAKING. CUTE.
Also, Fen's story is one I've been itching to tell since he was first introduced.
Fact known only to myself: Fen wasn't originally supposed to be the hero of this book. In fact, while I knew what fairy tale book 5 would be based on, I had no idea how it fit into the overall storyline until Fen's introduction in…book 3? Eep. I'm, like, 98% certain that was the book he was first mentioned in. Anyway. Fen slid into the story and suddenly book 5 unfolded in my head.
By the by, Fen in complicated. He's tortured by the past and doesn't want to imagine a future after everything he's been through. THE GUY KILLS ME. Good thing he has Gretchen to pull him out of his rut.
And…AND AND AND book 6 is *flaily hands and unintelligible sounds* Let's just say everything the Grimms have been working toward pays off in the final book. Is that a spoiler? Well, spoiler, I write books with happy endings, so my characters will all walk away happy once this series ends. *more flaily hands*
But book 6 is in the future. Fen and Gretchen's story is now. Grab it! Get caught up. Because the end is coming!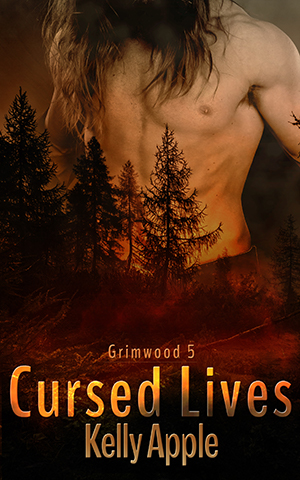 Cursed Lives
Amazon
|
Barnes and Noble
|
iTunes
|
Kobo
Release Date: February 3, 2018
Pages: 192
Genre: Paranormal Romance, Twisted Fairytale
Growing up wild in Grimwood, Gretchen Malloy knows her corner of the woods like the back of her hand. Stumbling over a previously undiscovered cabin to explore is the highlight of her lazy summer days.

Only, the cabin she found isn't empty and the brooding, angry man who chases her away is almost too much excitement for her tastes. For all she might not be wanted, Gretchen's terminal curiosity sends her back again and again until an unexpected friendship blossoms.

Fen Grimm knows exactly what he is—the crusty old loner who's given up on the world outside his cabin and who wants nothing to do with Grimwood or any of its many inhabitants. He's already loved and lost enough and he has no need to watch another mortal age and die before his eyes.

If only Grimwood didn't need him, he'd be content to live out the rest of his long days alone. But when the magic in the wood calls, a Grimm must answer.
<< Cursed Touch - Cursed Heart >>
Psst. Want some hints on what's coming in the final book of the Grimwood saga? I'm not saying you should take a peek at my Grimwood board on Pinterest or anything, but you should really take a look at my Grimwood board on Pinterest.