Yessssss! I had to fight through great hordes to bring this book to you, but IT IS FINALLY HERE! (actually, I just had to fight through my early attempts at writing it, but that other sentence sounds so much more DANGEROUS!)
That's right, my friends, Jazz and Arix have arrived. AT LONG LAST, you might be saying. And I agree. Book 3 won't take nearly as long to get here. I have a plan. It might even be a good one.
Anyway. BOOK! WITH DEMONS! And one mouthy werewolf! You'll get to see more of Bas and Evie (their story continues in book 3, btw) and frolic in the fun that is the demon plane. *throws glitter confetti to make everyone sparkle*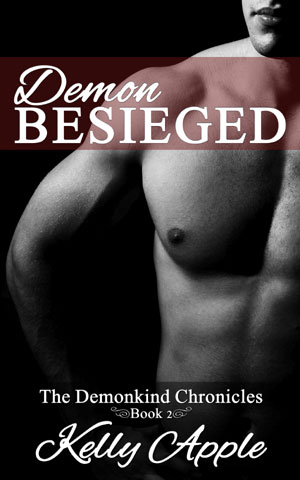 Demon Besieged
Amazon
|
Barnes and Noble
|
iTunes
|
24 Symbols
|
Kobo
|
Inktera
Release Date: September 21, 2014
Pages: 121
Genre: Paranormal Romance
She's determined to avenge her sister's death.

Jazz's journey to the demon plane takes an unexpected turn when she finds not only her sister alive but shacked up with the very demon who was supposed to have killed her. And the worst part? An infuriating demon bodyguard stirs longings in Jazz that she doesn't want to face.

He sees something more.

Arix is intrigued by the sassy werewolf. Even when she's making a mess of things, her fiery personality calls to him. She might be rough around the edges, but he senses a heart of gold under all her bluster.

Together they could be perfect.

What's a demon to do when the wolf he wants to claim is determined to stay single? Turn up the heat and show her what she'll be missing, of course.

Warning: This book contains a werewolf who constantly puts her foot in her mouth and a demon who likes a challenge. Never underestimate the power of good innuendo.
<< Demon Restrained - Demon Unleashed >>
Demon Besieged will be available at multiple retail outlets. Soon. Ish. Soon-ish. As soon as I recover from getting this bad boy up on Amazon.