I did something this past weekend that I've been meaning to do for AGES. AAAAAAGGGGGES. What was it I did? I gave Operation Werewolf a face lift.
YOU GUYS DON'T KNOW HOW GOOD I FEEL ABOUT THIS!!!!
Seriously, when I originally starting putting together the covers for the Monstrous Matchmaker series, I liked the first one okay, but I LOVED the others. LOVED THEM. And the Operation Werewolf cover never quite fit in with the others. I mean, it DID, but it didn't at the same time.
I always intended to go back and redo it, but it was one of those things that kept being put off because I had OMG!A THOUSAND AND ONE OTHER THINGS TO DO instead. (Side note: the downside of self-pubbing is that, unless you have an assistant of some sort, you're the go-to gal for everything. The upside? You're the go-to gal for everything. Which means you don't answer to anyone. Which is also a downside. Huh. Two sides, same coin. Go figure.)
To make a long story short. I've been immersed in making promo graphics this past week and I FINALLY sat down and redid the Operation Werewolf cover.
Wanna see it??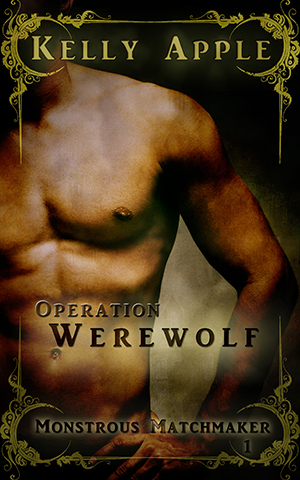 Operation Werewolf
Amazon
Release Date: April 12, 2015
Pages: 45
Genre: Monster Erotica
Being happily mated to a monster out of her wildest fantasies has given Ari Colton a burning desire to match her other monstrous friends up with their own dream girls. Her supernatural dating service might still have a few bugs to work out, but Ari knows she can find someone for anyone.

Her first paying customer? A lonely harpy who's been unlucky at love more than once.

Which of her friends is willing to step up to the plate and help Ari's fledgling business out? One wicked werewolf with a soft side for damsels in distress, that's who.

Can a werewolf with his feet firmly on the ground find love with a flighty girl? Only time will tell.

Warning: This book contains one pretty, winged girl and one growly werewolf. No woodland animals were harmed in their explosive outdoor encounter.
I like this one SO MUCH BETTER than the first version.
Now, I know my title for this post has plural covers on it, but I think I might save the others for later this week. *diabolical laughter* What can I say, I was very graphically productive recently.
See you soon!