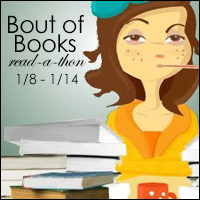 As some of you may know, I co-host the Bout of Books read-a-thon (with my FABULOUS partner in crime, Amanda!) and GUESS WHAT? The first Bout of Books of the year is ALMOST HERE!
The deets:
When: January 8-14
Where: Wherever you want it to be (on twitter, your blog, Instagram, Tumblr, WHATEVER)
Who: Anybody who likes to read and gets a kick out of talking BOOKS with a TON of like-minded people
How do you sign-up? You can find the details on the Bout of Books sign-up post. If you need additional help, check out our start here page (and please ignore the REALLY AWFUL video of me. Please.) or use the hashtag #boutofbooks on Twitter to lob questions at our fantastic #boutofbooks-ers.
Bout of Books is a labor of love for me. I've been participating in it since the very first one and I've been co-hosting it for…I don't know. A long time. It's a great way to kick off your reading year or to motivate yourself to finish a book or two that you might have been putting off.
Let's face it, books are life, amirite?!?!
Anyway. I'm all signed up and ready to go! Why don't you join me?!?!