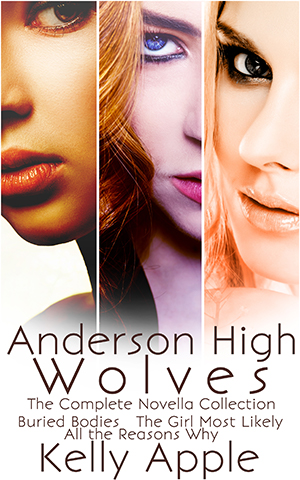 Anderson High Wolves: The Complete Novella Collection
(Anderson High Wolves Complete Novella Collection #)

Amazon | Barnes and Noble | iTunes | 24 Symbols | Kobo | Inktera

Release Date: September 27, 2017

Pages: 333

Genre: New Adult, Paranormal Romance
Anderson High Wolves... Three complete novellas plus never-before-published bonus scenes

BOOK 1: BURIED BODIES

Jenny Reynolds may be a mere human, but her life is anything but ordinary.

She's juggling her senior year of high school, a sick mom, a brother who depends on her, and, oh yeah, there's the matter of a body in the trunk of her car. As if that isn't enough, the werewolf quarterback of her high school's all-shifter football team has started sniffing around.

What's a girl to do when the most beautiful boy in school wants to help her out of her jam? If she's smart, she takes him up on the offer…

BOOK 2: THE GIRL MOST LIKELY

Lane Tennyson's greatest wish is to finish out her senior year and disappear into the big city where no one will know her name. Because this town won't let the girl voted Most Likely to Commit Arson (again) escape her past even though she's grown up since then and moved on.

Matthias Bridges is content with his place in life. As the second in command to a future alpha, he can see his path laid out for him and it's a bright one. The only dark spot is the way the girl who intrigues his wolf avoids him like the plague.

So what if she once set a local trailer park on fire? Accidents happen and Lane has grown from a gangly, angry girl into a beautiful, sweet young woman.

Finding out she has every intention of leaving and never coming back after graduation is unacceptable.

Because when a wolf finds his mate, there are no limits to what he'll do to keep her.

BOOK 3: ALL THE REASONS WHY

Natalie Lombard didn't set out to be the queen bitch of Anderson High, but that's what she is. She also never planned on letting everybody know how badly she wants a werewolf football player in her life, but it's the worst kept secret at school.

What they don't know is Natalie needs protection and the only ones she thinks stand a chance against her worst nightmare are the wolves.

Mason Armstrong held his tongue as Natalie dated her way through the team. He wants her to want him, not settle for the biggest, quietest wolf in the pack because he's the only one who will have her.

Finding out what drives her serial dating makes his wolf see red.

But figuring out how to fix her problem is only the beginning. Once her issues get taken care of, will she even want a wolf?