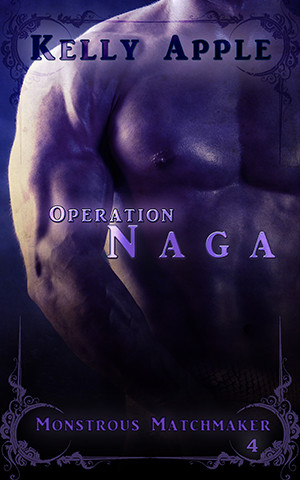 Operation Naga
Amazon
Release Date: December 23, 2015
Pages: 46
Genre: Monster Erotica
Ari Colton is determined to find romantic matches for all her monstrous friends. Her previous successes have set a fire under her and she'd ready to tackle her most ambitious monster yet: the prophetic naga.

Sorting through her (admittedly tiny) group of lady friends, Ari has come to the conclusion she'll have to cast a wider net if she's hoping to pair the surprisingly sweet naga with someone who will appreciate his intelligence and interesting anatomical differences. As it turns out some women are a wee bit leery of his dual action revolver.

If one thing can be said about Ari, she's tenacious. She refuses to let one of her friends down or walk away without giving it her all. Doing what she does best, Ari heads to the local college to recruit women for her matchmaking service.

Finding someone for the naga won't be as easy as she thought, but the handsome snake-man is going to get a mate. Whether he's ready or not.

Warning: This book contains one determined matchmaker, one hesitant naga, and one brainy librarian. You'll never look at the reference section the same again.
<< Operation Merman - Operation Minotaur >>