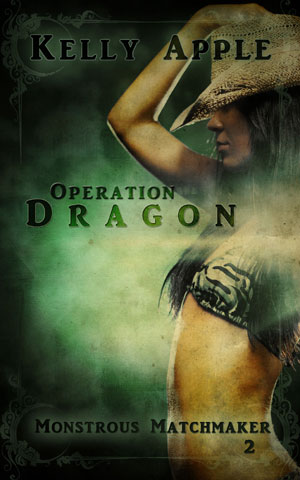 Operation Dragon
Amazon
Release Date: July 19, 2015
Pages: 39
Genre: Monster Erotica
With one happy couple firmly under her belt, budding supernatural matchmaker Ari Colton is determined to help any other lonely heart who comes her way.

A flighty cockatrice with a penchant for bikini tops and cowboy hats? NO PROBLEM.

She knows a wicked dragon with an open mind who would love going on a date with the sassy, motor-mouthed, half-dragon waitress. And if they happen to hit things off and find their happily ever after? EVEN BETTER.

Ari's determined to make her supernatural dating agency the best in the community and she's not above twisting a few wings to make things work.

Warning: This book contains one bikini wearing waitress who can't keep her mouth shut and one hunk of a dragon who likes things a little rough. No bikinis or fur-lined boots were harmed in the writing of this book.
<< Operation Werewolf - Operation Merman >>