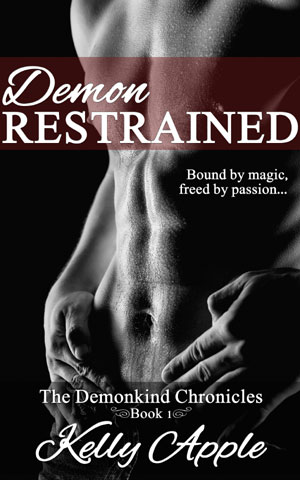 Demon Restrained
Amazon | Barnes and Noble | iTunes | 24 Symbols | Kobo | Inktera

Release Date: September 3, 2013

Pages: 95

Genre: Paranormal Romance
Bas wants out.

Held captive by a crazed Alpha, demon Bastael hates all those he's come across on the mortal plane. When a damaged werewolf falls into his path, he's determined to use her and find a way to escape.

Evie wants to be safe.

Abused by her Pack and afraid for her life, Evie hides in the dark corners of the basement. The demon that's already down there? He's better than the Alpha upstairs.

But neither of them expects the connection that sets them both on fire.

With the Alpha's lust for power escalating, Bas and Evie will have to find a way to break free or die trying.

Warning: This book contains one cocky demon and one werewolf who's stronger than she looks. That's right, folks… If the basement is a rockin', don't come a knockin'!