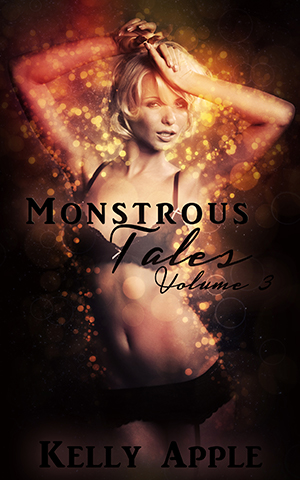 Monstrous Tales Volume 3
Amazon
Release Date: August 7, 2014
Pages: 182
Genre: Monster Erotica
Ari Colton's always been a little different. She has a thing for monsters of all shapes and sizes, but she's resigned herself to loving them only in her dreams. That is, until the day she's abducted by one and finds an entire supernatural world right under her nose.

Now she has all the monsters she can handle and she's loving every minute of it.

This bundle contains books 7-10 in the Monstrous Tales series and a never before published short story.

The Wicked Gargoyle
When Ari hears of a gargoyle living in the bell tower on campus, she does what any other monster-lovin' girl looking for allies would do: she seeks him out to see if he'd be willing to help. And if she has to get down and dirty with a man made of stone to help her beloved? She's okay with that.

The Wicked Sasquatch
The time to save her mate is nearly here. To ensure her success, Ari only has to find and convince the reclusive sasquatch to join her and the other supernaturals. With time running out, Ari is prepared to use all her wiles to gain him as an ally.

The Wicked Lovers
A mom who sees more than she should, a best friend who knows nothing of the world Ari's been drawn into, and a slew of former lovers are just a few of the challenges Ari faces as she sets out to rescue her beloved. Will the wicked girl with monster-fever be able to save her mate without losing any of her new friends along the way?

The Wicked Ever After
With the help of her monstrous friends, Ari has saved her beloved from the mating contract that nearly killed him. She might be reunited with the love of her life, but she still has a few hurdles to conquer. Like telling her family she's fallen in love with a monster and figuring out how to fit into the new world that's opened up around her.

Wicked Mating: A Monstrous Tales Interlude (never before published)
Making her mating to her monstrous love official doesn't require much. Just an open mind and a little outdoor sex beneath the full moon. Did somebody say "outdoor sex"? Ari's all over that!
<< Monstrous Tales Volume 2 - Monstrous Tales: The Complete Series >>