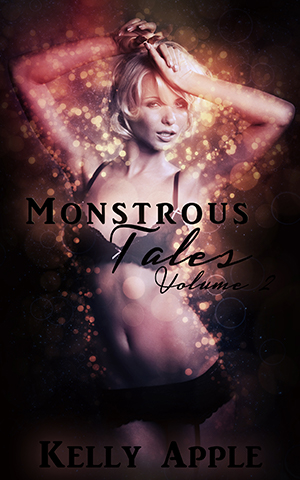 Monstrous Tales Volume 2
Amazon
Release Date: April 17, 2014
Pages: 136
Genre: Monster Erotica
Ari Colton's always been a little different. She has a thing for monsters of all shapes and sizes, but she's resigned herself to loving them only in her dreams. That is, until the day she's abducted by one and finds an entire supernatural world right under her nose.

Now she has all the monsters she can handle and she's loving every minute of it.

This bundle contains books 4-6 in the Monstrous Tales series and a never before published short story.

The Wicked Merman
With her beloved still in the midst of his mating duties, Ari agrees to go with her friends for a weekend away in the mountains. But when a girl who loves monsters ends up at a lake housing a merman, she's going to end up doing a lot more than swimming.

The Wicked Naga
The weekend's not over yet and it's just Ari's luck there's a snake-man in these mountains who's looking for a sweet, young thing to spend some time with. Ari's adventurous spirit could very well give her the answers to questions she didn't know she should be asking.

Wicked Dreams: A Monstrous Tales Interlude (never before published)
Plagued by worry for her beloved's safety, Ari's dreams have become nightmares since she returned from the mountain. That is, until the night she falls asleep and meets a supernatural who's very nature gives him control over the dreamscape.

The Wicked Minotaur
Desperate to distract herself, Ari stumbles into the Harvest Festival labyrinth and finds a real, live minotaur hidden away. Gaining his help in her quest to save her Guardian is a possibility, but only if she can find a way to convince him to leave his subterranean home.
<< Monstrous Tales Volume 1 - Monstrous Tales Volume 3 >>