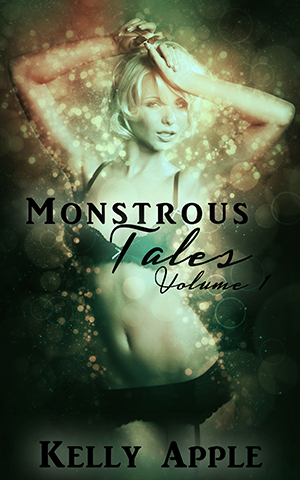 Monstrous Tales Volume 1
Amazon
Release Date: February 12, 2014
Pages: 125
Genre: Monster Erotica
Ari Colton's always been a little different. She has a thing for monsters of all shapes and sizes, but she's resigned herself to loving them only in her dreams. That is, until the day she's abducted by one and finds an entire supernatural world right under her nose.

Now she has all the monsters she can handle and she's loving every minute of it.

This bundle contains the first three books in the Monstrous Tales series and a never before published short story.

The Wicked Woods
Abducted from campus by a muscle-bound monster, Ari has a choice to make: Walk away or live out one of her wildest fantasies.

Wicked Games: A Monstrous Tales Interlude (never before published)
Ari's decided to institute game night with her Guardian to learn more about him. So far, it hasn't gone as planned. But Ari's determined and her Guardian doesn't stand a chance. Especially once their clothes start coming off.

The Wicked Wolf
Forced out of her green love's arms by his duty to his people, Ari finds a werewolf willing to help ease her loneliness.

The Wicked Dragon
Waiting for her beloved to finish his breeding duties hasn't been easy, but the dragon in Ari's backyard is eager to please and Ari has always been a sucker for the strange and unusual.
<< The Wicked Ever After - Monstrous Tales Volume 2 >>